Live Edged & Resin Gallery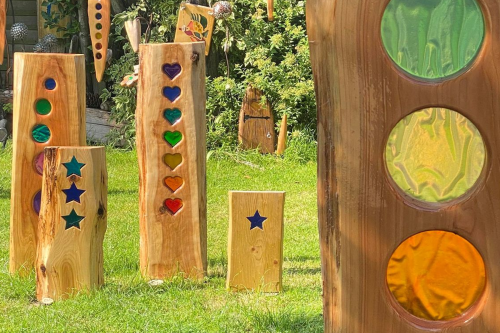 Live Edge Wood & Resin is an exquisite art form where the wood infused with resin, resulting in a captivating and unique design. This technique highlights the inherent beauty of the wood grain, complemented by the dazzling resin. Choose from an array of shapes, including stars, circles, hearts, or even let your imagination run wild with a custom shape of your choosing.
Our Live Edge Wood & Resin pieces are not just products, they're a testament to our family's 40+ year journey of crafting and our commitment to creating high-quality, sustainable, and personalized pieces. They're the result of a process we've perfected over the years, only using eco-friendly sustainably sourced live edge wood.
How to Order Your Custom Live Edge Wood & Resin Piece
Choose Your Design: Browse through our gallery of previously crafted pieces for inspiration. Whether it's a live edge garden feature or a wall décor, the choice is all yours.
Get a Free Quote: Use the contact form below to describe your desired piece, including engraving, shape, size, resin colour, and any special requests. We'll get back to you with a free, quote.
Place Your Order: If you're satisfied with the quote, confirm your order and we'll begin the process of creating your unique Live Edge Wood & Resin creation.
Delivery: Once your piece is ready we will arrange for deliver to your home.
Contact Us for a Free Quote
Fill in your name, email, and a description of your idea, and we'll get back to you as soon as possible with a free, no-obligation quote.