Wooden Signs
Handmade Wood Signs
Affordable Wood Sign For Everybody
Home Garden Man Cave Garage Shed
Engraved Sign Information
We are suppliers of engraved wooden signs, you can order signs in lots of fonts and size lettering.
These signs are made of Recycled Durable Wood and have been treated, with occasional care our carved signs should last many years.
Fixing Sign
These signs can have fixing bracket on back for hanging on wall. We can also add rope to your sign on request.
Timescale On Signs Made For You
Online Signs Made Within 5 to 7 Days
"Beware Of The Cat" wood Sign
Introducing the "Beware Of The Cat" Sign. This piece of art is handmade by my family, featuring intricately hand carved lettering into the wood. It will definitely be an eye-catcher in any home!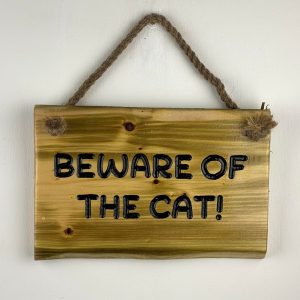 "Welcome-ish" Wood Sign
Introducing the "Welcome-ish" Sign. This sign is handmade start to finish by my family, featuring intricately cut lettering into the wood. It will definitely be an eye-catcher in any home!
One of the great things about wooden signs is that they are easy to hang. Thanks to the included rope, you can simply hang anywhere. Simply hang the sign anywhere you'd like! In addition, from it being simple to hang, wooden signs are a wonderful way to bring a touch of natural charm to your house.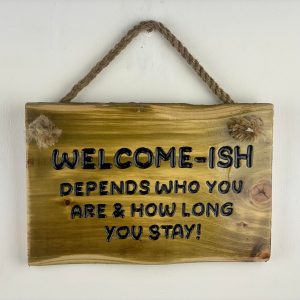 "Gone Fishing" wooden Sign
Introducing the "Gone Fishing" Sign. This sign is handmade start to finish by my family, featuring intricately cut lettering into the wood. It will definitely be an eye-catcher in any home!
To protect the wood, we coat it in resin and then finish it with a spray coat of lacquer. This process protects the wood, giving it a shiny finish, ensuring that it will withstand the brutal UK weather.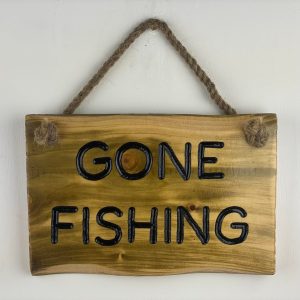 Sustainable Wood Sign for home and garden
We have created hundreds of designs over the past few years. However, we love making designs personalized for you! So, if you would like something personal made for yourself or even for a friend! Contact us today. We love hearing your ideas and making them into existence.
We home make all our Affordable Wooden Sign For your Home ,wooden Garden sign, Man Cave sign ,Garage or Shed Engraved Sign Information, you can get any wooden sign created and filler with any epoxy resin in any colour. there amazing as house signs and are made from high quality timber so will last several years.
We spray the wood signs with lacquer what protects them from the brutal UK weather. We use only the highest quality of resin and materials in our work. and only believe only in perfection for your homes and gardens. This makes the Sculptures suitable for going inside and outside. Everything is encased in resin and lacquer to provide strength and durably to each ornament. Then it's ready to be displayed in your home or garden!
As a nation we pride ourselves on our passion for all things horticultural – from the humble window box to the rolling acres of country homes. SO, what better way to enhance the beauty of your garden than by displaying local, handmade sculptures and decorative pieces by handmade4u.co.uk of West Sussex?
Resin Plaques
Remember a loved one by allowing us to create a unique sculpture or plaque in their memory. Add their favourite animal, saying or image and it will always make your smile when you see it.
The resin plaques started after making house signs over my many years of woodworking, we found that lots of people liked the idea of adding stencils to their designs. in addition These included Butterflies, Bees, Dragon flies, Lady Birds, Wolves, Giraffes and many more!
Since people loved these designs so much, we decided to start making our resin plaques. Firstly, we made a seahorse with bright coloured sea glass placed into the stencil, this was before we had ever discovered the spectacular uses of epoxy resin. When we finally got round to using the epoxy resin, we were amazed at how effective incorporating the resin into the plaques looked.
All of our Handmade Personalised Gifts can be displayed outside or you can display them in your house for a great talking point!
We are open from 10 am to 4 pm every day. Our address is: Grackles Highleigh Nursery Highleigh Road Highleigh West Sussex PO20 7NR