Past Commissions Gallery
we have been making unique wooden products now for the last 30 years. Here you can see our Past Commissions Gallery and what we are able to make for your Home Garden or Business.
If you have an idea please get in contact with us to talk about what we can create for you.
At our workshops in Highleigh, West Sussex we can offer you any style signs or ornaments . From small wooden house signs to massive wood flowers. Free No Obligation quote on products just ask!
For Custom Orders please use Past Commissions Gallery Thank You.
Here you can see some of the previous Commissions we have made. Made of Recycled Durable Wood and have been treated, our carved signs should last many years.
Resin can be Engraved.
You can brows the signs on our Commissions Past Commissions Gallery. furthermore You can create your own unique order, as you can choose from a range of colours to personalise to your creation. These are available in different types of wood so you can craft your dream Wood & Resin ornament.
You can order signs in lots of fonts and size lettering. We can also engrave logos and pictures and set any colour resin into wood.
How to order ?
Contact us to get a free, no-obligation price on any sign or ornament. Our team of experienced woodworkers will help you at every stage. Hundreds of options to choose from , or give us a photo to recreate. there is a large selection for under £30 click here to see. these make god presents.
To experience the beauty of handmade goods you can come and visit us! Browse our garden to see our unique products, decorations, and signs for both the home & workplace. we have created lots of business signs like the sign we donated for the cat and rabbit rescue centre. we love doing local commotions and will install the sign for you.
We are excited to produce beautiful products since we have over 30 years of combined expertise. Dealing with wood and two years of perfecting the art of resin in signs. browse our Resin Signs Gallery for previous work and be by the beauty. When your ready to order simply reach out to us and get started on your unique creation today!
Back To GalleryThis was a great commission we did at Hampton Court commotions, its a flower show where we had to make the seven dwarfs (Mushrooms) for snow white, this won a award so we were really... read more »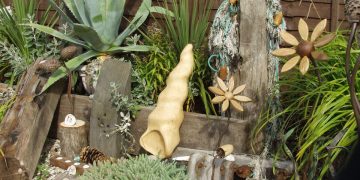 Back To GalleryThis was a great commission we did at Nursery Display Commission, This was a commission we made for a nursery made from recycled sea groynes from Selsey beach, mixed with the plants from the nursery... read more »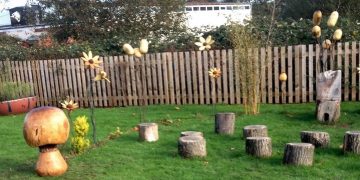 Back To GalleryThis was a great commission we did at Gosport School Commission, This was a great commission at the school to create a magical area for a story telling. We have been making unique wooden products... read more »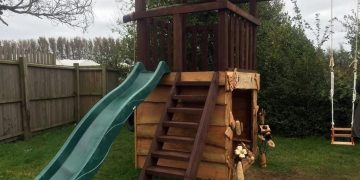 Back To GalleryThis was a great commission we did for a friend to make a unique wooden play park. will design and build you a great quality wooden playground for your garden or home.Of course, it's not... read more »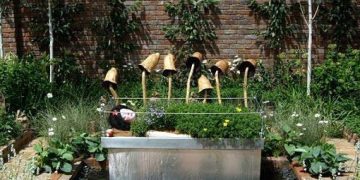 Back To GalleryThe pieces we make for Hampton Court Commission are sympathetic to most garden or rural environments. Complementing their surroundings while also adding some magic and fun. We have a wide range of sizes so scale... read more »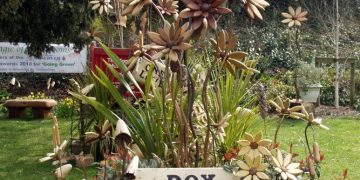 Back To Past CommissionThis is a display we created for the ROX Music & Arts festival everyone gives there time free it is one of the only free music festival.ROX Music & Arts Organisation are a charity based... read more »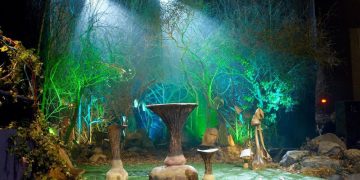 Back To Past CommissionThis is a video of a commission I did at the NME Awards 2009 at Brixton. The stage was set as a magical forest and they hired all my mushrooms and flowers for the awards.... read more »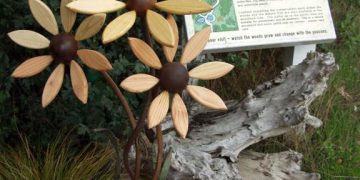 Back To Past CommissionWe created a great Woodland Walk with a Park and Nature Trail. The Aldingbourne Trust Commission is a great place to visit at Blackmill Lane, Norton, West Sussex, PO18 OJP,There new woodland walk with new... read more »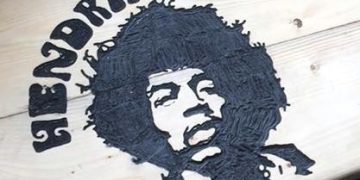 Back To Gallery This was a great commission we did in Pier Bar Hotel music venue on Bognor Regis sea front.We were commissioned to create all band logos engraved into seats and... read more »